Angelus Sneaker Paint
The journey to what today is known as Angelus Direct started with Paul T. Angelos. He emigrated from Greece to the United States in 1907. When he arrived on Ellis Island, there was probably not even the thought of " Angelus Shoe Polish " and what influence he would have in the industry. From New York he managed to get to Chicago and then on to Los Angeles on money earned by polishing shoes. Once in LA, he set up his own shoe stand, but since he was not happy with the available products, he cooked up his own recipe for shoe polish and made it at home in the kitchen.
He went back to Greece for a while to get married. When the family returned to America, business flourished. Paul was crowned "King of the Bootblacks" and had to open a small factory with his brothers to meet the demand for their polish. They sold their shoe stands in the city and devoted all their time to the manufacture of their Angelus products. In 1924, their large 5-story factory opened on Maple Avenue in Los Angeles, Paul's son joined the company and the demand for their stuff only increased.
In 1947 the Angelus Direct company was sold and many changes took place under the new ownership, sadly nothing good. Expensive ingredients were replaced with cheap ones and the quality deteriorated. That was until Paul and his son bought the company back in 1953 and had to put everything right again. The quality they were known for before was again a fact and they only got stronger and stronger in America, and are today market leaders in the country.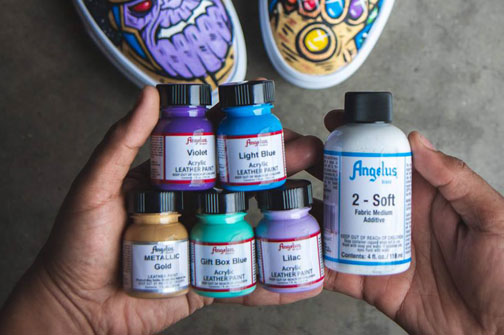 The Angelus Brand continues to develop even today and has recently taken the American shoe market by storm where artists and designers decorate shoes with their acrylic leather paint. The color is incredibly popular among a new generation and is used to design and style their own and others' shoes with favorite characters, sports logos, custom designs and colors.
This is what we are seeing coming to Europe recently and we are pleased to be able to offer Angelus shoe paints, mediums, brushes and accessories to our customers all over Europe.
The Angelus Direct colors are available in both 29ml and 118ml. Angelus Direct come in a standard series of 62 colors, a metallic series and a fluorescent neon series. The color itself is opaque, completely non-toxic and water-based. It is specifically developed for leather and fabric but can of course be used on a variety of other materials and when it is applied with the right type of preparation, associated medium if needed and finished with finisher, it fits very well and does not crack or flake like other colors so easily do on fabric and similar materials. Mediums are available to facilitate painting of plastic or other hard surfaces, one that facilitates painting of very soft surfaces such as certain textiles, a gloss reducer, clearcoat, thinner, preparation liquid, cleaning etc. Angelus acrylic paint is primarily applied with a brush but can also be used in airbrush if it is thinned to the right viscosity. Now you can paint your sneakers, loafers, slip-ons, boots, sports shoes or whatever you want!